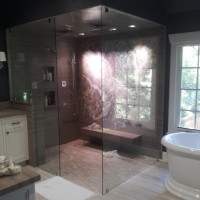 Tired of that water-stained shower curtain hanging in your bathroom? Want to improve the look, feel and value of your bathroom in a modern way? Shower doors are a great step up… but frameless shower doors are truly a top-tier choice! At Othon's Golden State Glass, we pride ourselves in being able to help customers take full advantage of a frameless shower in Orangevale, CA. Count on us to provide you with the glass styles that are right for your bathroom.
Only the Best Glass
Because they're such a major focal point in your bathroom, it's important to make an investment in quality when it comes to your shower doors. We bring our customers only the best in heavy frameless glass and don't use any glass less than 3/8ths of an inch thick. This not only ensures a hefty, sturdy feel, but also an alluring focal point for your bathroom.
Customized Panes
Want custom shower glass panels in Orangevale, CA? We have the ability to sandblast and tint glass to make sure you're given all of the privacy you demand while in the shower. We can tint the entire pane, partial sections or create designs for a truly one-of-a-kind approach to bathroom modernization. We'll be happy to work with you to determine what level of customization you need to get the right shower doors for you.
Why Frameless Shower Doors?
Many people often wonder why frameless shower doors are such a luxury option. Take a look at some of the best reasons to make this investment for your home:
Adds depth to a bathroom, making it look bigger
Timeless style lends itself to any décor
Sleek, elegant design that's unencumbered
Easy to clean and maintain
If you want to make an investment in your home that's beautiful, functional and adds value, frameless shower doors are a great option. Let Othon's Golden State Glass make sure you're getting the very best glass in the industry. Give us a call today at 916-988-8533 to learn more.