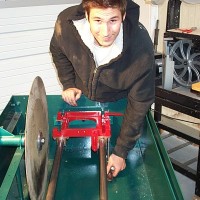 Dealing with a specialty company can be a new experience for many people. If you're looking for services provided by a specialty glass company, Othon's Golden State Glass is here to make it easy for you. We take a customer service-oriented approach to everything we do and are glad to walk you through the process when it comes to customizing your glass. Take a look at our simple 6-step process for what you can expect during the process:
1. Sizing and Style

We work with you to get information that will help us plan the scope of work. One of our experts will walk through the project with you, asking questions to help us understand the rough size and design you're going for. We can even help you fill in the blanks by providing information about different glass styles, including Victorian, modern and more. Once we have all of the right information, we'll be able to provide you with a rough estimate and timeline.

2. Image Focus

If your glass includes any sort of imagery—whether inlaid or engraved—we'll help you figure out the scope of the design. We can work from any existing design you may like or use it as an inspiration for a completely new piece. Or, if you have an idea you'd like to work from scratch on, we'll discuss it at length to make sure we're following the right ideas.

3. Design and Layout

With the size, style and imagery figured out, we get to work putting together a rough design and layout of what you can expect for your custom piece. We'll get it all down on paper so you can see what the finished product might look like!

4. Modifications

With the rough design in hand, you'll have the opportunity to make modifications. We'll be happy to listen to your thoughts and critiques, making changes to ensure the design reflects what you want to see in the finished product.

5. Production

Production is where the magic happens! We'll take the finalized design and get to work creating it in real life. Our glass experts will make sure to match ever detail perfectly! The work we do is all by hand, so you can expect a truly beautiful piece of handcrafted glass as the final result.

6. Installation

Once your custom glass creation is finished, we take care of installation to make sure it's done right. Whether it's entryway glass or a single stained glass window, count on us to get it flawlessly installed so its instantly a beautiful focal point for your home.